Technical support scam calls
Information security now!
Over the past week, Finnish organisations and individuals have been targeted by a large number of calls from scammers claiming to represent Microsoft technical support. The callers claim to have detected an information security problem on the victim's computer, which they then ask the victim to open. The calls appear to come from a Finnish number, with the scammers speaking either English or Finnish. These calls are scams, and there is reason to believe that they are being made from spoofed phone numbers.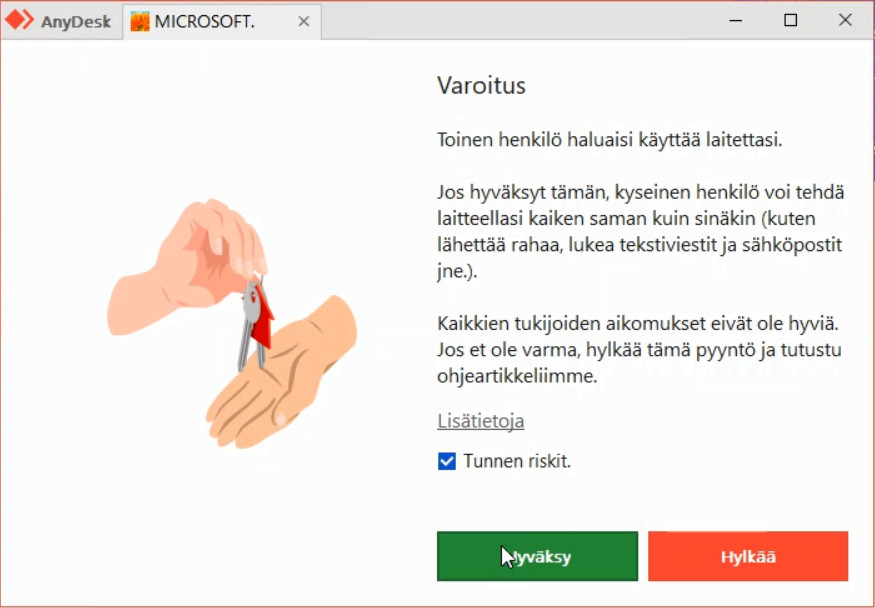 Onko tietokoneellani ongelma? 
Väitteet hakkerista tai tietoturvaongelmasta ovat huijausta. Huijari pyytää uhrejaan ajamaan erilaisia komentoja, kuten ASSOC, NETSTAT, Tapahtumienvalvonta, ja niin edelleen. Huijari tulkitsee komentojen tuloksia mielensä mukaan ja väittää, että koneellasi on ongelma tai hakkeri on päässyt koneeseesi. Väitteet ovat pötyä eivätkä komentojen tulokset tarkoita sitä mitä huijari väittää. 
Huijari yrittää suostutella uhria asentamaan maksuttoman etähallintaohjelman, kuten Anydesk, TeamViewer, SupRemo, Alpemix, Zoho Assist, tai muu vastaava. Windowsin lisäksi näitä ohjelmia saa myös MacOS:lle ja Linuxille, jos soittaja vain saa suostuteltua uhrin asentamaan ohjelman. Huijari voi myös pyytää ostamaan Google Play tai iTunes -lahjakortteja tai virtuaalivaluuttaa ja haluaa niiden koodit. Pyyntöihin ei pidä suostua.