The National Cyber Security Centre Finland's weekly review – 18/2023
Information security now!
This week we talk about top Finnish cyber security expertise and cooperation, which got on stage at one of the largest information security events in the world. We also take a summary look at currently circulating scams and phishing campaigns.

Topics covered in this week's review
The NCSC-FI at the international information security event RSA Conference

The themes of scams and phishing campaigns are cyclical

Cyber security information and instructions for everyone
The NCSC-FI at the international information security event RSA Conference
The 32nd annual RSA Conference (External link) took place in San Francisco in the last week of April. The four-day conference is one of the biggest information security events in the world, bringing together hundreds of speakers and tens of thousands of conference guests.
The NCSC-FI had a notable presence at the conference, with NCSC-FI Development Manager Lauri Isotalo together with representatives from Finland's National Bureau of Investigation and Elisa holding a presentation on the cooperation between Traficom and Finnish telecommunications operators to prevent caller ID spoofing . Headed by Traficom, this cooperation resulted not only in a technological solution, but also an amended regulation that imposes new obligations on telecommunications operators to prevent caller ID spoofing and the relaying of scam calls to recipients.
Scam calls utilising caller ID spoofing are not a uniquely Finnish problem, as the phenomenon is very common around the world. As such, it is hardly surprising that the presentation elicited interest and discussion among the audience on how the solution implemented in Finland could be applied in other parts of the world. In addition to providing Finnish people with better protection against scam calls, the cooperation between Traficom and Finnish telecommunications operators has also resulted in important insights.
Even if a problem seems challenging, there is always something that can be done to solve it: Major problems can be solved with small experiments and repeated attempts. Working together makes us stronger.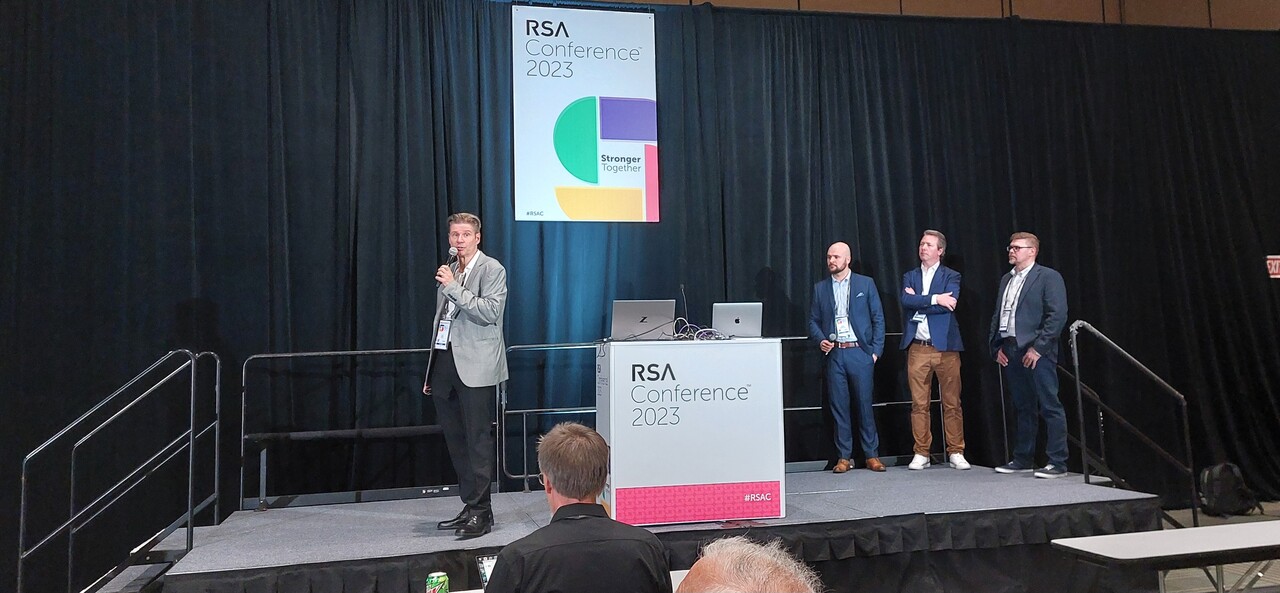 There were two topics that were particularly prevalent in the presentations and panel discussions held at the conference: Ukraine and artificial intelligence. The cyber incidents associated with the war in Ukraine are of great interest around the world, with people wanting to learn everything they can about them. As artificial intelligence technologies continue to develop by leaps and bounds, the opportunities that they present as well as their security and ethical implications are being increasingly discussed among the information security community.
We here at the NCSC-FI have also been following the rapid development of various artificial intelligence technologies and commissioned two studies on the subject in cooperation with the National Emergency Supply Agency. The first study examines the cyber security and ethics of artificial intelligence applications (External link) (in Finnish), while the second study examines the potential of artificial intelligence in enabling cyber attacks .
The themes of scams and phishing campaigns are cyclical
Over the past month, we have warned about technical support scam calls and suomi.fi phishing , invoice fraud and secure email phishing , Microsoft M365 account phishing and caller ID spoofing . These themes continued to be relevant during the past week as well.
Currently at the forefront are police impersonation scam messages and so-called sextortion emails. In both cases, the recipient of the message is asked to respond to the message. In the sextortion emails, the recipient is told to pay USD 500 in the virtual currency Bitcoin to the blackmailer. The police impersonation scam messages reported to the NCSC-FI have appeared to have been translated into Finnish using machine translation.
Phishing campaigns involving scammers impersonating parties such as the Suomi.fi service and the Finnish postal service Posti are also still active. Other parties being impersonated as part of currently ongoing phishing campaigns include telecommunications operators, National Enforcement Authority Finland, MobilePay, ApplePay and Netflix. The web addresses used in phishing campaigns change frequently, so reporting them to the NCSC-FI helps us to effectively prevent phishing.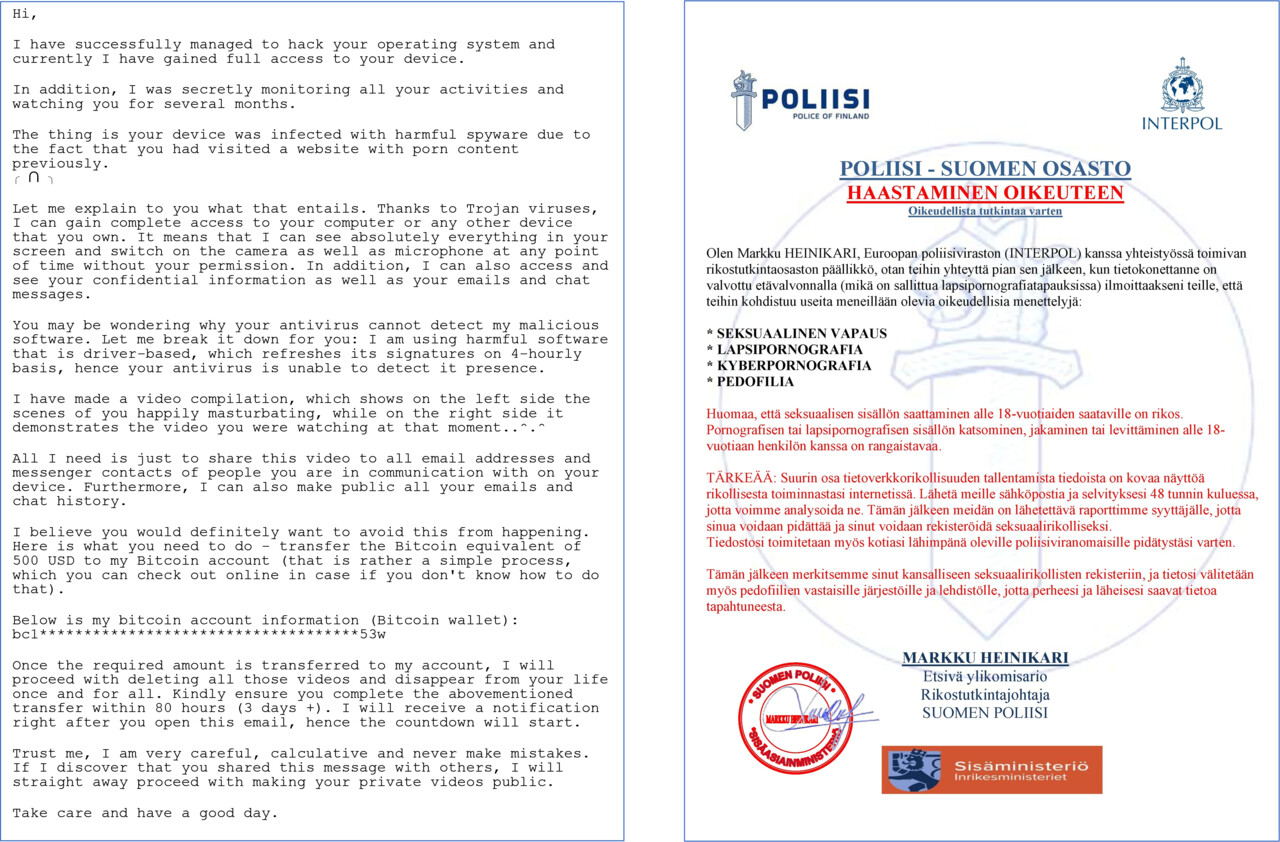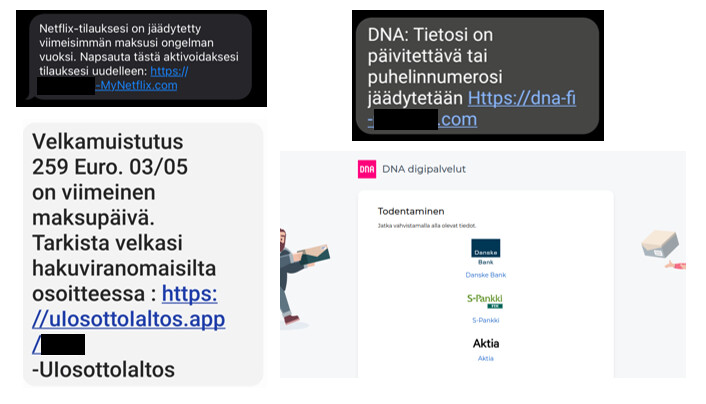 Cyber security information and instructions for everyone
In addition to these weekly reviews, our website also offers information on cyber security to industry professionals, organisations and private individuals. The best way to stay up to date on the latest cyber security industry news and vulnerabilities is to subscribe to our news and vulnerability digests. We also publish vulnerability bulletins on the most notable vulnerabilities and alerts on especially severe information security threats.
Once a month, we also publish a Cyber Weather report, which is primarily aimed at information security professionals, but also offers interesting information for others interested in the industry. Each Cyber Weather report provides information on events during the past month and the current state of cyber security in Finland.
We also publish occasional Information Security Now! articles. These focus on topical cyber security phenomena and events, their impacts and how to prepare for them. Our most recent Information Security Now! articles have included news on secure email phishing and the current cyber threat level .
Our website also features a wide range of guides and instructions for private individuals, organisations and information security professionals.
You can also find us on social media! We provide information on e.g. currently circulating scams and topical cyber security issues on social media.
This is the weekly review of the National Cyber Security Centre Finland (NCSC-FI) (reporting period 28 April–4 May 2023). The purpose of the weekly review is to share information about current cyber phenomena. The weekly review is intended for a wide audience, from cyber security specialists to regular citizens.